Description
A voice, station-streaming, and YouTube radio made for DarkRP 2.5.0 and higher. It includes a radio and microphone. Stream live Internet radio or YouTube videos, change channels, and enjoy music with others! Want different stations available? Not a problem: Just edit the config file.
There is an 'In-Game Voice' channel which allows players to listen to in-game broadcasters. These broadcasters can choose to broadcast a radio station or setup a DJ booth.
There's also a 'YouTube' channel for playing video audio. Searching the site is made easy. There are options for storing videos in a queue and more!
Comes with pre-coded DarkRP entities and a radio host job!
Compatibility
Features
Broadcast voice
Stream Internet radio
Channel changing
Radio menu and settings menu
Override stream volume
Change channel list color scheme
Multiple microphones can broadcast to radios!
As a broadcaster, see who can hear you.
Destroy a radio or microphone
Microphone stands up (keep upright)
Don't want to hear someone on the radio? Mute them in-game!
Removes microphone on job change (on by default)
Enable or disable streaming of Internet radio stations
Chat command to open up radio settings menu
Refresh all stations (settings menu; troubleshooting)
Owners/developers can add or remove stations
In-Game Channel (multiple microphone support)!

Separate microphone channels
Stream voice on different microphone stations
Stream stations/YouTube on different microphone stations
Select whose microphone station you want to listen to!

Multiple language support

Players will see radio text based on their game's language
French & English language files are supplied!
Simply add a new language (instructions in README)

Easy-to-edit config file
YouTube Features
Play Ad-free audio from any public YouTube video
Easy-to-use menus
Search videos
Playlist queue
Blacklist videos (for admins)
Auto-seeks to ensure players are on the same part of the video
Configuration settings:

YouTube for only certain ULX rank
YouTube for only certain jobs
Blacklist words for YouTube player
Mac Users: YouTube videos are unable to play on the Awesomium HTML UI engine in GMod. As a consequence, you cannot hear YouTube audio. This problem has existed for a long time, even for Cinema servers, and it is highly unlikely to be resolved soon. The best solution would be to use a Windows computer if you want to listen to YouTube on the radios.
Video - Demo
NOTE: The video may contain content that has been changed or improved from June 2016.
Entities
Radio
Radio menu (press 'E' or use key on entity to open menu)
Change a radio's channel in menu
Change a radio's volume
Stream volume can be overridden in settings menu
Hear radius for listeners (must be in room)
Easy-to-read text
Ability to select a player's microphone broadcast
Microphone
ON/OFF MODE: Turn a microphone either ON AIR or OFF AIR using 'E' (use key)
DEFAULT MODE: Change a microphone's channel
Voice radius for broadcasters (must be in room)
Stands up (keep upright)
Simple WorldTip pop-up label
Installation
Place in the server's addons folder.
Usage
You will need to have the jobs, which will buy the radio and microphone, implemented in your DarkRP. I've included a detailed readme file, which will walk and you through the steps. In the readme file, you'll also find a radio host job and two entities (radio and microphone) for your version of DarkRP (2.5.0 and higher only).
Default Radio Stations
Configuration
It's pretty self-explanatory: Just find the config file in the addon's lua folder and edit values to your likings.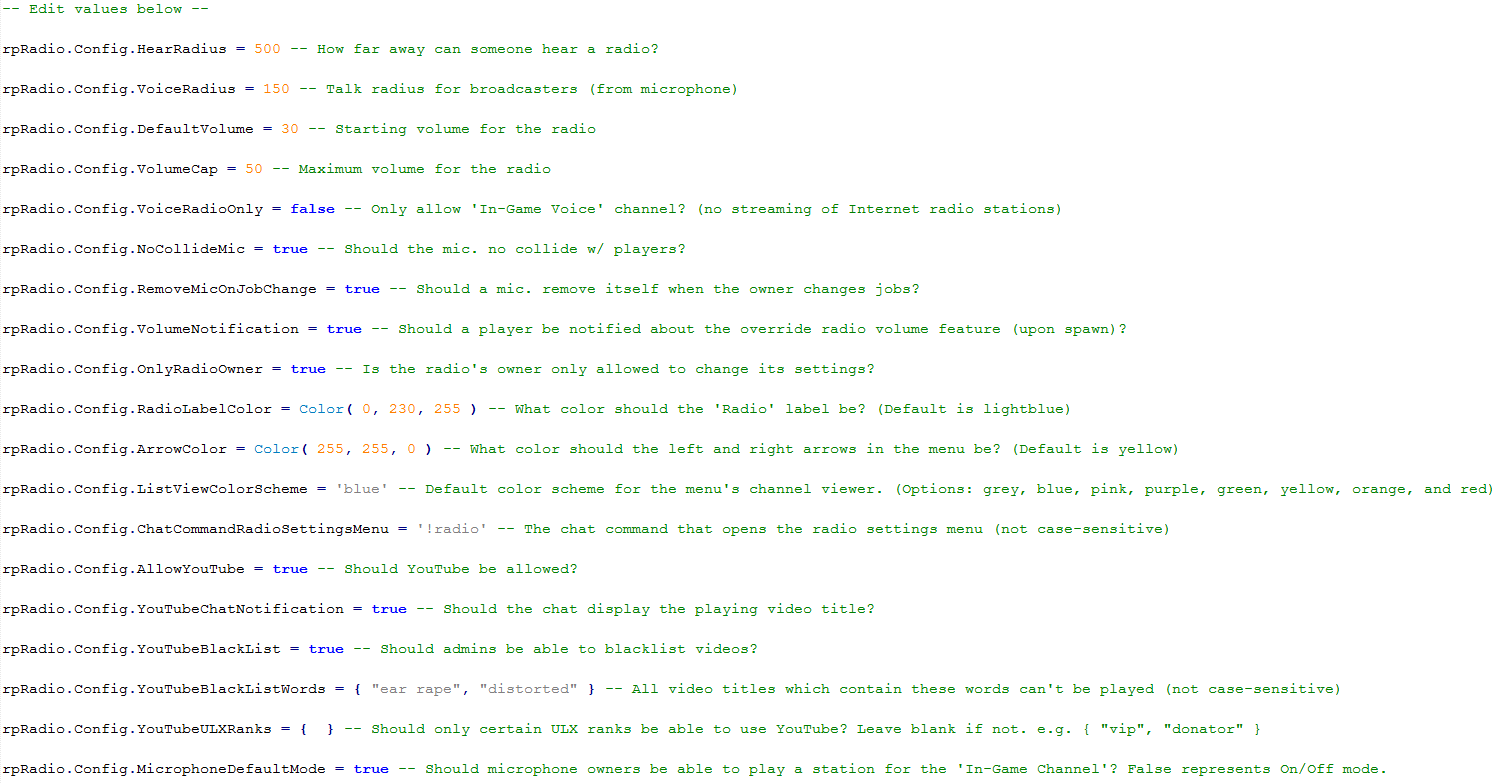 Add or Remove Stations
This code is located at the bottom of the config file. Follow the instructions.


---
My Other Content