Pointshop Trading System
Description
Pointshop Trading adds a great new way for players to swap, barter and exchange items complete with an invitation system, categorized inventory, drag and drop trade items, chat, a robust ready system and a huge set of configurable options to theme and customize trading for your server.
Best of all Pointshop Trading is compatible with both Pointshop1 and Pointshop2 servers and works great across any gamemode.
Feature List
Compatible with both Pointshop1 and Pointshop2
Invitation system
Categorized inventory
Drag and drop trade items
Chat system
Can trade both items and points
Robust ready system (Works just like Steam Trading, so say goodbye to scammers!)
Trade summary, shows what has been lost and received when a trade is completed.
Customizable theme (window colors, text and sounds)
Optimized for and tested on different resolutions.
Options to exclude specific categories and items from trading
Language Strings easily customizable from config file
Custom can trade function; example shows how to restrict trading to certain usergroups & can be used for much more.
Youtube showcase
Installation
To install Pointshop Trading all you need to do is unzip the download (click Download on the Pointshop Trading System page after purchasing to get the zip file). Then, if you use FastDL or a Workshop pack for your server add the resource folder to your FastDL/pack. (Resources are added automatically for FastDL servers)
Support
To make the addon even easier to configure, all the settings can be managed in one file; sh_tradingconfig.lua In here you can manage the theme, core settings, language strings and notification sounds.
A detailed setup & developer guide is included with this addon.
If you find any bugs, issues or other problems these will be resolved quickly and updated here on GmodStore for all users to benefit from.
Steam: http://steamcommunity.com/id/chuteuk/ (PM me to say you've added me if you like :))
Skype: chuteuk
Open a ticket on GmodStore and I respond to any questions quickly

Screenshots

See media tab

Customizable Files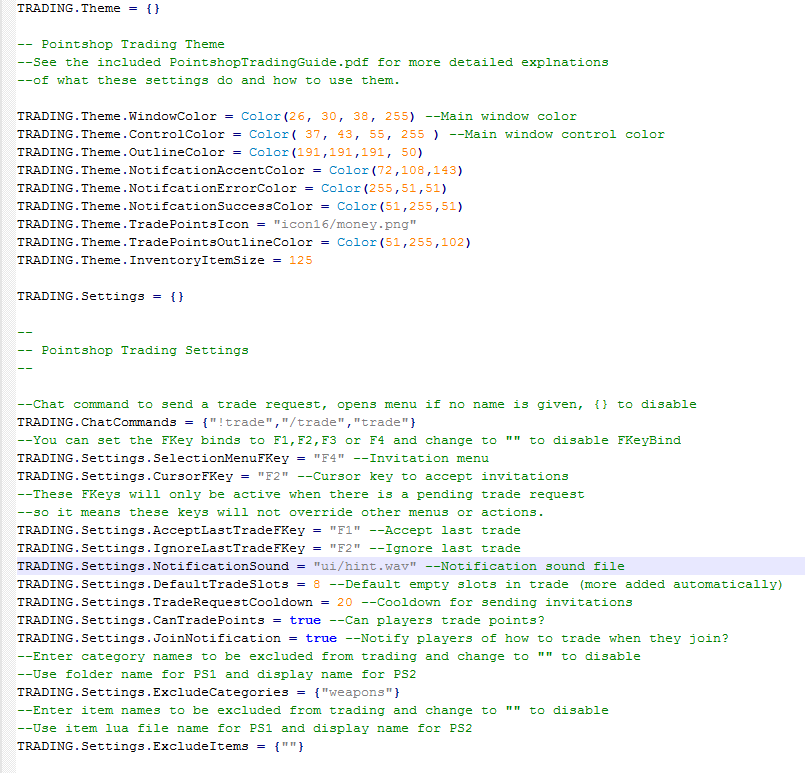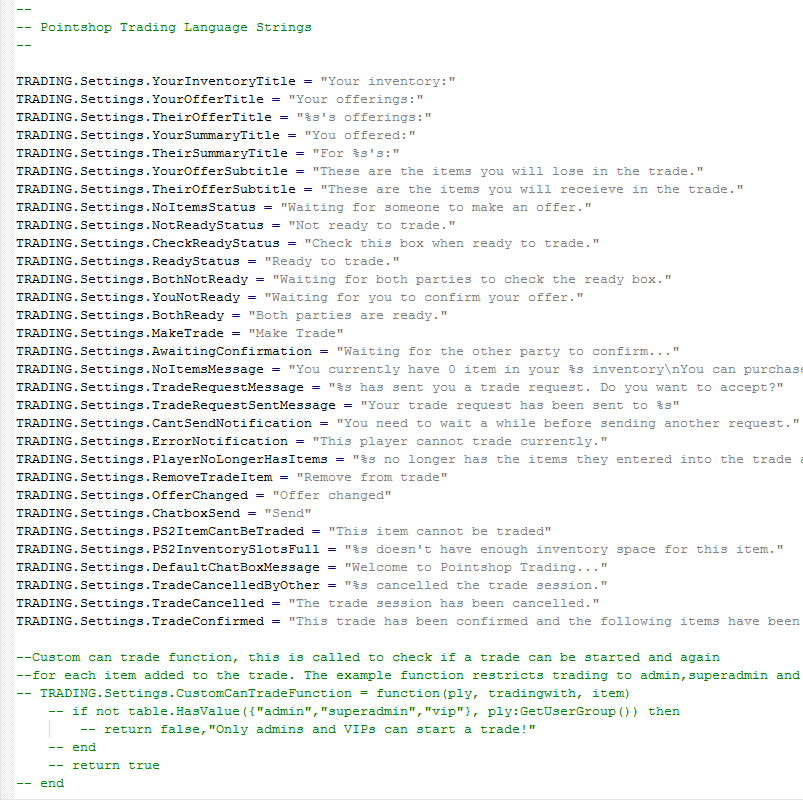 Other Scripts
Pointshop Trading works great with these other scripts: