ONLY WORKS FOR DARKRP
You require LUA knowledge in order to make this work with other gamemodes.
Please leave feedback and suggestions in the comments area!
Media
Description
This addon adds system that is similar to the hitman system, but here it's instead 100% automatic and based on players killstreak. The system sets a bounty on players that reach X amount of kills.
Features
Adds more action for trigger happy players
Bounty Board (Check media)
Custom 3D Model for Bounty Board (Made by Pyro)
Can be arrested or killed, as it states "Wanted, Dead or Alive"
Wanted poster HUD (keeps track of reward and player)
Sound broadcasted around server when a new bounty is placed
Notification broadcasted when a bounty is claimed
Bounty Hunter Job
Supports bLogs
Easily customizable
Setup
Extract the folder "bountyhunter" to your addons folder
Spawn Bounty Board(s) and put them where you want them and then run "save_bountyboard" in order to save them permanently.
Content
http://steamcommunity.com/sharedfiles/filedetails/?id=752909534
Configs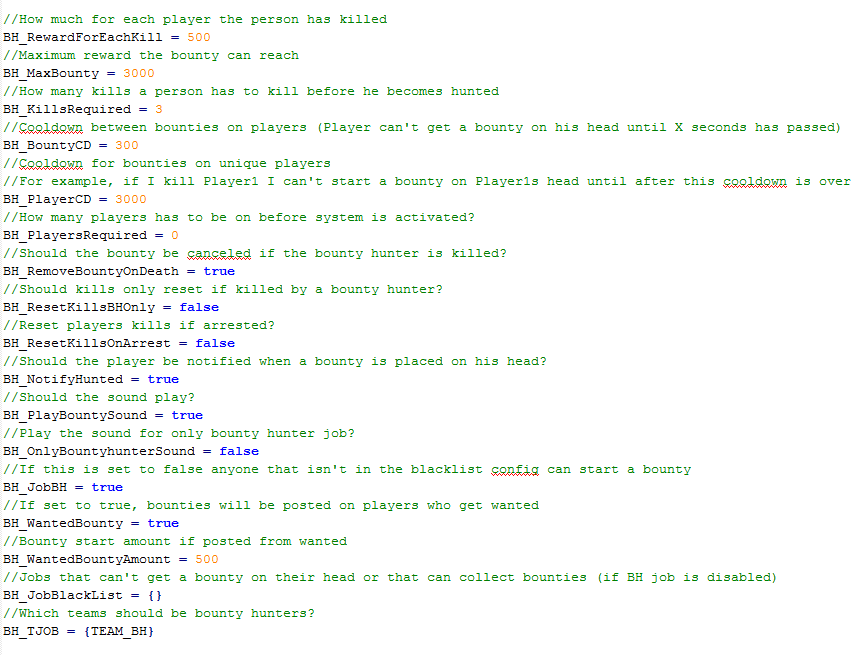 Credits
Pyro for creating the Bounty Board model (https://scriptfodder.com/users/view/76561198080400417)
Servers running this addon
Syndicate RôlePlay (French) GMOD13.MTXSERV.FR:27140
Adickrp (French) 158.69.23.82:27040
Shieldroleplay.co 51.254.51.2:27015
Mist Gaming KingdomRP 185.44.76.6:27185
BlueCoinRP 74.91.115.64:27015
Little Britain Gaming 185.38.149.17:27025
Jedi vs Sith 137.74.91.128:27035
SanctuaryRP 164.132.22.164:27015