Mayor Voting/Elections System
A great new mayor elections system for DarkRP, with NPC and loads of customization options!
Flat, hot and modern design with customizable colors
Supports DarkRP 2.4.x,DarkRP 2.5.x and DarkRP 2.6.x
Fluid animations, effects, and many configurable settings…
Feature List
Comes with NPC for players to enter voting (they can also enter via the F4 menu)
Customize voting colors, sounds, text notifications and more style options
Works on any screen resolution and works on Windows PCs, Mac and Linux
Works and tested on DarkRP 2.4.x,DarkRP 2.5.x and DarkRP 2.6.x
Options to configure entry fee for mayor election
Settings for minimum and maximum candidate numbers
Configure vote times, cooldown and notice times
Automatically demote mayor on death (configurable)
Options to allow/disallow candidates to vote
Fluid hover ,selection and mayor results animations
SuperAdmin command (mayor_vote_placenpc) to easily set NPC position, also supports multiple maps
Installation
Unzip the download, and put MayorVotingSystem into the addons folder
See the readme.txt if you need any further help installing or setting up the NPC, or contact me
Support
To help you get setup and customizing in seconds, each configuration file includes help and comments on what does what.
Free support is offered for the lifetime of GmodStore , you can contact me via Steam,Skype or here on GmodStore
If you find any bugs, issues or other problems these will be resolved quickly and updated here on GmodStore for all users to benefit from.
Customizable Files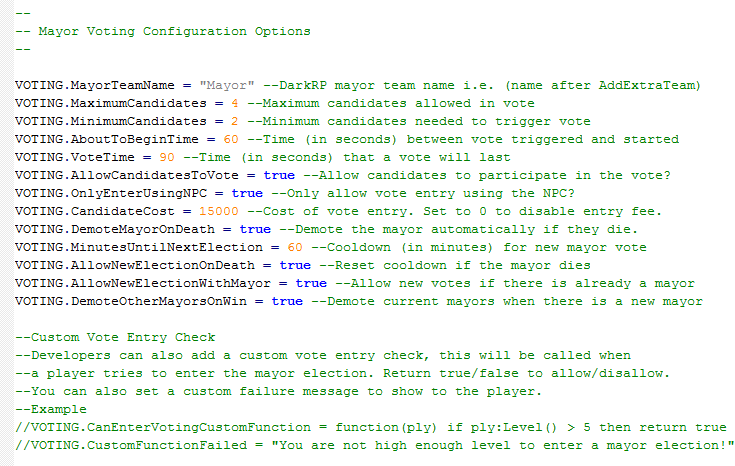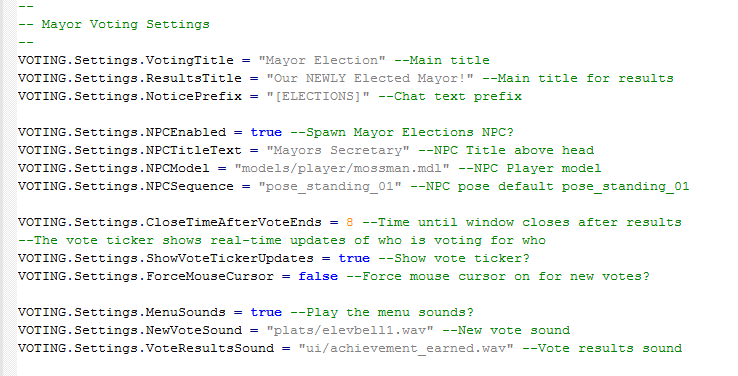 Screenshots
Support
Any Questions? Please contact me!